As we all know Jagoan, the COVID-19 pandemic is not over yet. Since no one knows how long the pandemic will last, we all must continue to be vigilant and take care of our health.
One way is by staying at home. If there is no urgent need, for the sake of everyone's safety, it would be better if we all do not leave our houses.
Some of you might be worried. It's good to just stay at home, but there are many necessities that force you to leave the house. From shopping for daily needs and transferring large amounts of money to different bank accounts to paying monthly bills. Actually, all of them can be done right at home.
If you use Jago, you don't have to go out at all. In fact, you can just relax at home and take care of all necessities. How?
Jago Takes Care of All Your Transactions Online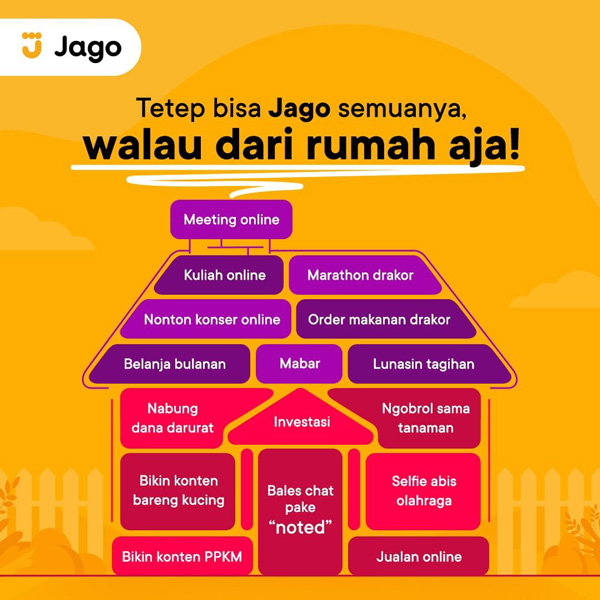 Technology was invented to make life easier for everyone. Especially during a pandemic, you can easily shop online. From vegetables, meat or other daily necessities to even furniture and medicines, everything is available online these days.
Since all necessities have become cashless, Jago is an excellent fit in your daily life. With Jago, you can manage your e-wallet easily without having to top up regularly. You just need to create one Pocket for your top-up needs, so Jago can help manage your e-wallet expenses and you can automatically top up your e-wallet.
How about transferring money to different banks in large amounts? With Jago, you can transfer up to IDR 100 million per day to another bank, with one transfer limited to IDR 50 million. You just open the Jago application and enter the destination account number.
This way, there is no need to queue long at the bank and be in a crowd of people. All your financial needs are successfully taken care of while you are complying with the health protocols.
Paying monthly bills is also easy and hassle-free through Jago. Even better, there is an automatic feature called "Plan Ahead" that can help you pay your monthly bills on time. You will never forget paying your bills ever again.
You Can Grow Money with Locked Pocket
In addition to taking care of your payment and shopping needs, there is another cool feature from Jago that you can take advantage of while staying at home. If you can grow your idle money, wouldn't you take the chance?
Try putting money in a Locked Pocket. You can enjoy up to 4% interest p.a. It is somewhat similar in principle to time deposits. The difference is, the duration of locking can be as short as 14 days. And, you don't need a big capital, IDR 100k can do it.
If there is a sufficient amount of idle money, you can put it all in a Locked Pocket because the greater the amount being locked, the greater the interest.
Oh yes, this Locked Pocket is also very useful for those who like shopping and can't stand to see idle money. With money being locked, you can start exercising self-control by not shopping or snacking.
This Locked Pocket can also be a savings for emergency purposes. Always hope for the best, but plan for the rainy days.
Start feeling the ease of fulfilling all your transaction needs online through the Jago application, which can be downloaded here.