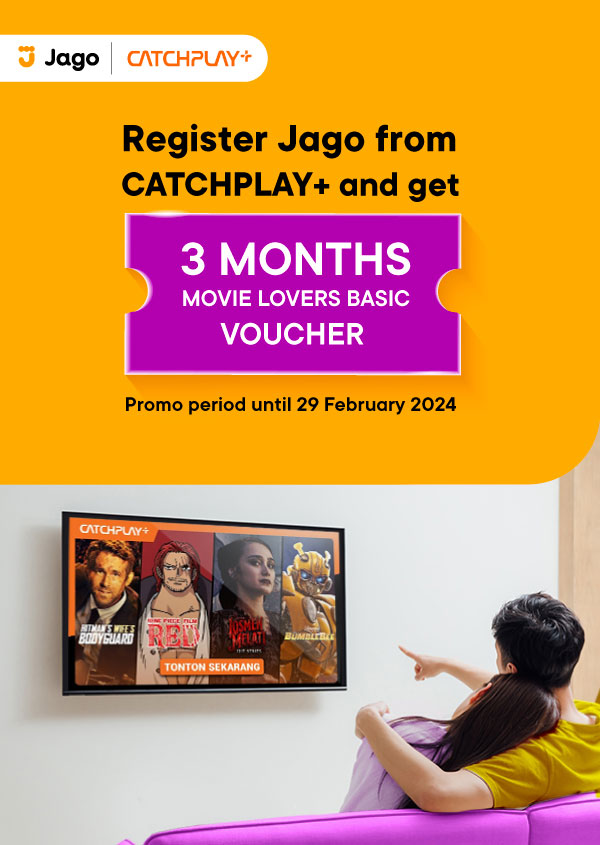 Registration Periode: 02 May 2023 - 29 February 2024
Promotion Quota: 300 CATCHPLAY+ users who have not opened Jago account
Requirements:

Download Jago apps on your phone or tablet through the link from CATCHPLAY+'s email/social media/landing page or click this link.
Complete Jago registration and finish the verification process through video call until the account is active.
Fund your Jago Pocket with minimum balance of Rp250,000,- latest 7 calender days after registration.
Movie Lovers Basic 3 month voucher will be sent to your email used at Jago every 10th of the following month every after the user completes registration and top up.
Get additional cashback up to Rp100,000,- when you do assigned missions in Jago app. See the details here.
Promo is valid for new/existing CATCHPLAY+ user and does not have an active Jago account yet.
User is eligible to receive CATCHPLAY+ Movie Lovers Basic 3 months sent to your email after completing Jago registration process from CATCHPLAY+'s link and funding on Jago Pocket during registration period.
Make sure the email and phone number used when registering Jago account is the same with the one used in CATCHPLAY+ account.
Jago and CATCHPLAY+ are not responsible for customer negligence in entering a valid email address when filling out Jago account opening form.
The prize tax is borne by Jago.
This promotion is free of charge.
This promotion is valid for all Jago users with the exception of Jago employee.
Jago has the right to change the Terms & Conditions of this program if deemed necessary by providing information through Jago's website, application and social media accounts.
Decisions, conditions, or changes to conditions made by Jago cannot be contested.
By participating in this promotion program, Jago users acknowledge, understand, and agree to all applicable terms and conditions.
Jago has the right to cancel a promotional prize if there is any indication of fraud or violation of the terms and conditions of the promotion.
These terms and conditions have been made following the provisions of the prevailing laws and regulations, including the regulations of the Financial Services Authority (OJK).
Should you have any questions, please contact us via the official Jago Customer Care contact numbers at 1500746 or (021) 3000 0746, email us at [email protected], and also our social media channels (Instagram and Twitter) at @tanyajago.