Sharia Deposit
Save money according to the Mudharabah Muthlaqah akad to achieve financial goals
Create a Pocket for Sharia Deposit and get the distribution of a 16.21% ratio with a profit sharing equivalent to 5% p.a.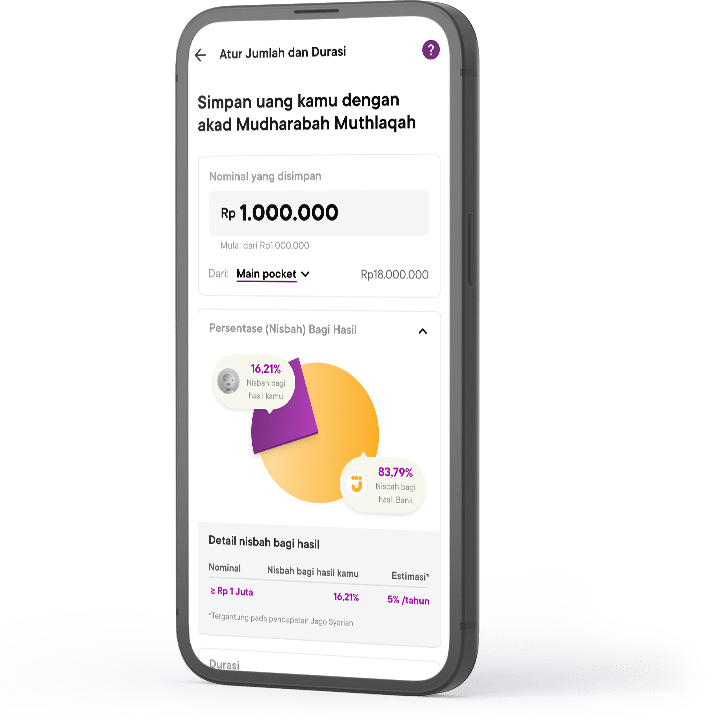 Using Mudharabah Muthlaqah akad
Sharia Deposit, according to sharia principles, uses the Mudharabah Muthlaqah akad. It is more amanah and you can save money worry-free.
Profit sharing ratio
Get a competitive profit sharing ratio* based on the percentage of profit sharing, the length of time the money is saved and the amount of money provided.

*The changes in the profit sharing ratio follow the market trend. Savings will not be covered by LPS if the accumulated savings amount (including interest) at one bank exceeds Rp2 billion.
Flexible saving terms
Options to save money between 1 to 24 months. Suitable for both short and long term financial goals.
No premature withdrawal fees
Withdraw deposit early without paying penalties. A flexible solution to address urgent needs.