If you are more comfortable with cashless transactions when shopping at the supermarket or mall, you definitely need a debit card. A Jagoan who already has a Jago account has enjoyed many benefits. If you don't have a debit card yet and want to have a Jago Visa Debit Card, you can definitely apply for one.
Before Jago discusses the Jago Visa Debit Card in detail, let's start with knowing the benefits of having a debit card.
What are the Benefits of Having a Debit Card?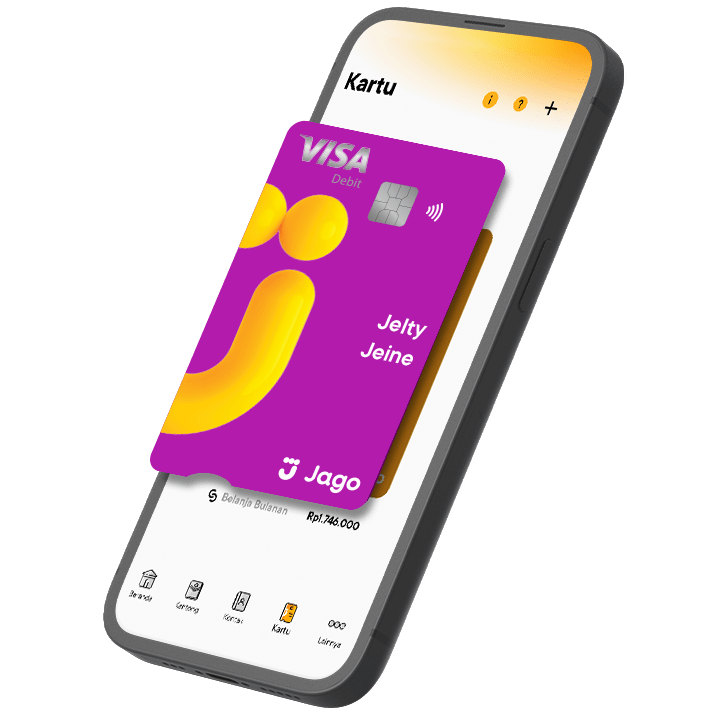 1. It helps reduce the risk of overspending
If a credit card provides the convenience of being able to buy whatever you want even if you don't have the money, a debit card is just the opposite. A debit card can help reduce the risk of overspending. This is because a debit card is linked to your savings account.
There are several powerful ways to control spending urges. You can read this article: 5 Surefire Ways to Resist Emotional Spending.
2. It facilitates online transactions
Just like a credit card, a debit card can be used for various online transactions, from topping up your e-Wallets to online shopping at various stores around the world.
For those who are traveling abroad, paying for everything can be even quicker if the store where you are shopping or the mode of transportation you use has Visa PayWave. Just tap or wave the card in front of the machine that has the Visa payWave symbol and then wait for payment confirmation. No more swiping debit cards and entering PIN numbers.
3. It's more secure because it's a card
Carrying large amounts of cash everywhere when you want to buy a lot of things is not only inconvenient, but also less secure than carrying a debit card.
In addition, learning from the COVID-19 pandemic, cashless shopping reduces the risk of transmission, whereas money circulation knows no boundaries, increasing the chances of contracting the virus.
4. It makes it easier to track spending or expenses
When you buy or pay for something using cash, you inevitably have to record it manually, if you want to track your spending.
A debit card allows easier spending tracking, because every transaction with a debit card is recorded by the bank. You can track your expenses through an application or other banking facilities provided. Tracking expenses is important. You need to know how you are spending your money. This way, you can learn to manage your finances better.
Jago Visa Debit Card: Available in Physical and Digital Versions
Yes, you read it correctly. For convenient, easy and fast shopping anywhere, Jago offers the options of creating both physical and digital Jago Visa Debit Cards. The digital one is specifically for online transactions.
Can it be any more fun? Of course. So that you love your debit card even more, you can print your name on the physical Jago Visa Debit Card. And, theres more. You can also name the card according to its purpose.
How to Create a Jago Visa Debit Card
Applying for a Jago Visa Debit Card is also very practical and effortless. There is no need to visit a Jago branch office. You can sit comfortably and open the Jago application at home while following these steps:
Go to the Cards menu in the bottom navigation.
Click Create Card or + symbol.
Input your card name (it can be the purpose of the card).
Choose which type of debit card you want to make.
Choose an existing Pocket or create a new Pocket as a source of funds that will be linked to the card.
Select a name to be printed on the physical card.
Review the details of your address and linked Pocket and choose Create Card.