Jago Visa Debit Card
Easy payment anywhere worldwide without fear of overspending
A practical payment method that can be used for transactions at ATM and EDC machines bearing the visa logo.
Link the card to any Spending Pocket to start transacting.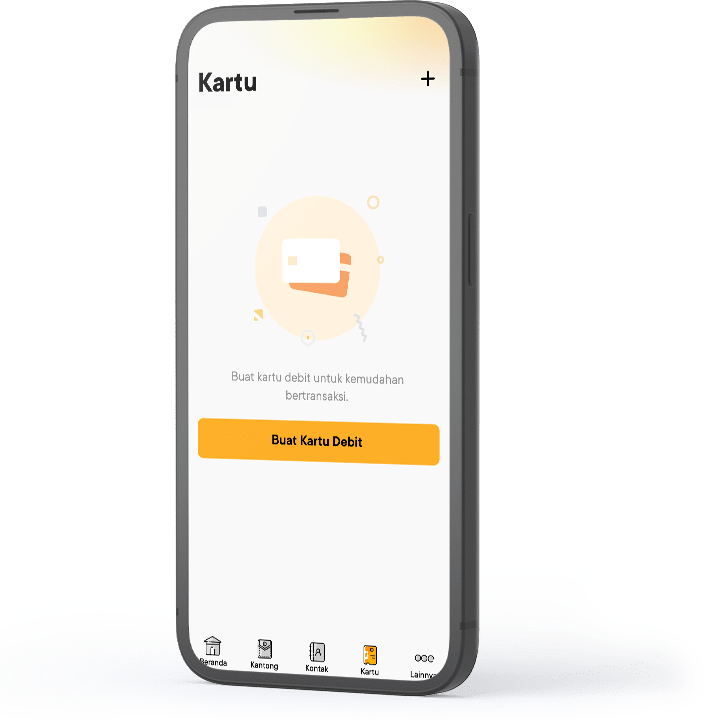 Create Your Card from Wherever You Are
Create a Jago Visa Debit Card via the Jago application at any time. Wait for the card to be delivered to your address. Card delivery to the Jabodetabek area takes a maximum of 3 working days, large cities outside Jabodetabek a maximum of 5 working days and other cities a maximum of 14 working days.
Make Your Card More Personal
Edit the name for your card in the Jago application. Personalize it to make it easier to distinguish if you have multiple cards.
Lock & Unlock Card
Lock & Unlock your card directly from the Jago app. Managing all your Jago Visa Debit Cards becomes easy.
Link to Any Pocket
Link your card to any Spending Pocket that is the source of funds. You can also move the link to another Pocket.
Set Your Own Transaction Limit
Set transaction and cash withdrawal limits per day as needed to keep expenses under control.
View Transaction History
View the transaction history via debit card in the linked Spending Pocket. Monitor expenses at any time.
International Payment
Use the Jago Visa Debit Card for payments worldwide, as long as there is the Visa logo on the ATM and EDC machines.